SAFETY RECALL
Holmes® Tower Fans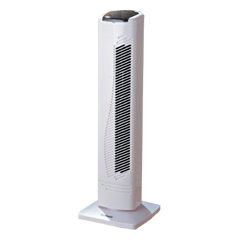 HT30
If you purchased the tower fan listed above, stop using the fan immediately.
Please follow the steps below to determine if your tower fan is subject to recall and eligible for replacement.
Step 1:
Locate the Model Number on your fan to ensure it is HT30.
The Model Number can be found on the UL label located on the bottom of the fan (see image below).
Step 2:
If you are in possession of a HT30 tower fan, contact us at 1-800-546-5637 to confirm your eligibility and register for a replacement fan.
Step 3 (if eligible):
If it is determined that you are eligible for a replacement fan; unplug your HT30 fan and cut the plug off of your power cord.
Step 4 (if eligible):
Mail the following to the address provided below:
The plug which was cut off of the power cord.
A 3x5 index card with your name, mailing address, home telephone number, model number, and product color.
Addressed to:
Attention: Holmes Fan Recall Center
4110 Premier Drive
Suite 101
High Point, NC 27265
Step 5 (if eligible):
Once your plug has been received and your registration confirmed, your replacement fan will be shipped within 2-3 weeks. We apologize for any inconvenience this may have caused.